Rotary is where neighbours, friends, and problem-solvers share ideas, join leaders, and take action to create lasting change.
With the advent of Covid-19, and in common with other Rotary clubs here and around the world, our club is holding weekly Zoom meetings.  This will continue until we are once again able to meet safely face to face.
Visit from the Rotary Club of Uttoxeter, UK in September 2018. From left: Patrick Pringle, Tony Shallcross, Angie Marriner, Cathy Pringle, Anita Thomas-Epple, Ross Marriner, Alan Durose, David Reeves, Bill and Kit Mills.
Ntsika Senior Secondary School: R2 million Global Grant project completed in November 2020
Championed initially by the late Bill Mills ("Mr Matching Grant") and ultimately accomplished by Rotarians Gavin Keeton, Andy Long and Budgie Vassiliou and the team on our club's Service Projects committee, our first Global Grant project for Ntsika Senior Secondary School has been successfully completed.
This is the largest project ever undertaken by our club, targeting one of Rotary's six areas of focus: water and sanitation.  The school's ablution facilities were in an appalling state, with only one toilet block operational for over 800 learners, and sewage flowing into a wetland area nearby.  The project has connected the school to the municipal mains sewage system; totally upgraded the learners' and staff ablution blocks including fully tiled walls; provided essential plumbing in a kitchen/scullery area; replaced broken downpipes and guttering and installed 4 10,000 litre rainwater tanks and erected drinking water fountains.
Thanks to the Rotary Foundation and all the sponsoring clubs who made this project possible.
Principal of Ntsika Secondary School – Madeleine Schoeman and Rotarian Sally Terry
Ceiling mural with school flag
Relaxing under a coral tree
Grade 8 learners attending the handover ceremony on 23 February 2021
Rotarians visiting Ntsika Secondary School, from left: Viv de Klerk, Sally Terry, Belinda Tudge, School Principal Madeleine Schoeman, Patrick Pringle, Past President Ian Suttie, Billy de Klerk
Borehole installed by Gift of the Givers for both school and the community
BEFORE: Girls' toilet block
At the handover ceremony, President Ros Parker (right) with Principal Madeleine Schoeman
AFTER Grade 8 Girls toilet block
Handover ceremony from left standing: Rotarians Patrick Pringle and Gavin Keeton, Grade 8 Head Mrs Lungile Ralo, contractor Allan Starke of Multiworks, Rotarian Andy Long, Mike Davies of M D Plumbers, Principal Madeleine Schoeman. Seated: Acting Principal Nompumelelo Jack, President Ros Parker and Mrs N F Xalabile, Circuit Manager Makana 1, Dept of Education.
The charter of the Rotary Club of Grahamstown, No. 7370, was signed at Rotary International's Head Office in Evanston on 19 October 1949. READ HISTORY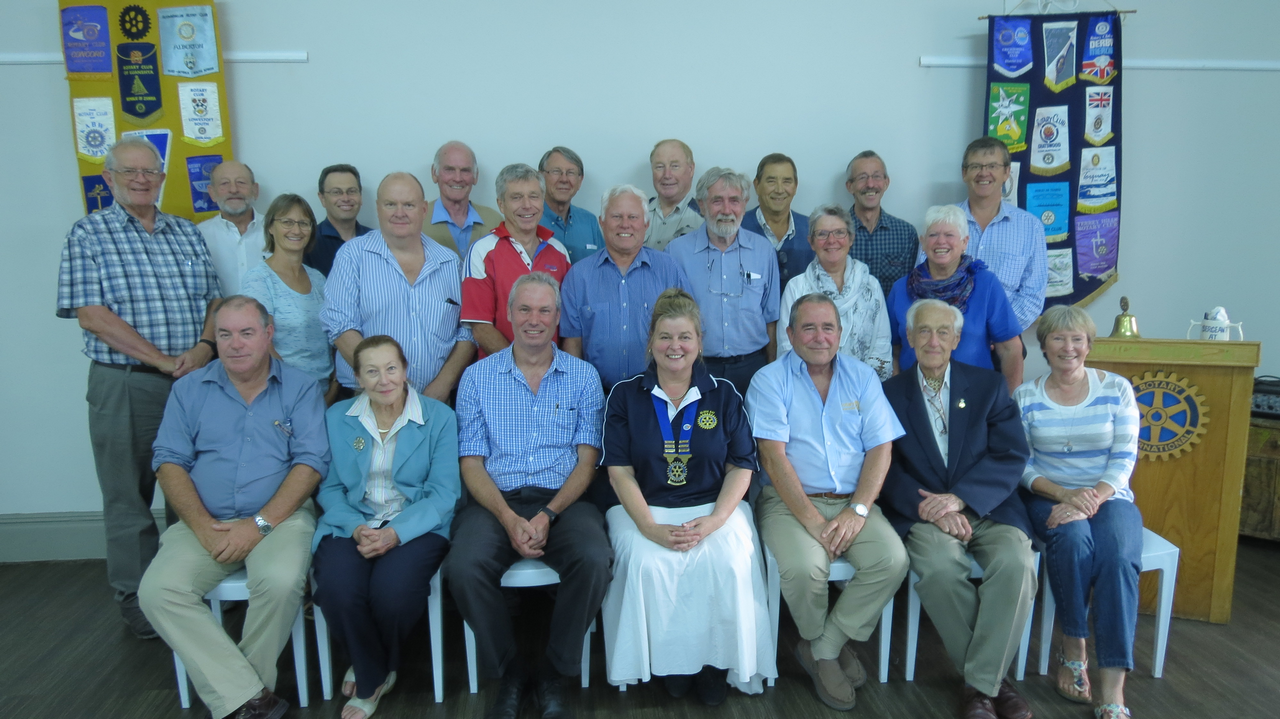 March 2019: Rotary Club of Grahamstown members with then President Ross Marriner and District Governor Gianna Doubell
Currently we meet via Zoom on Thursdays at 1.00 pm (see full details of our monthly schedule under Meetings)